Check Out What's Happening: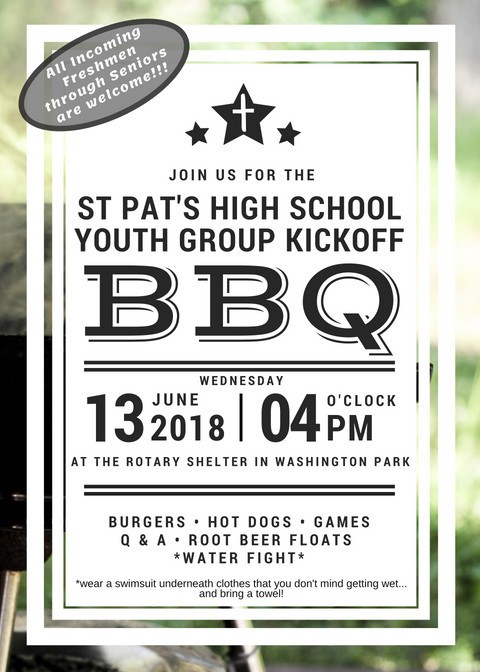 REGISTER NOW FOR TOTUS TUUS!!!
What is Totus Tuus? Totus Tuus allows students entering grades 1-12 the chance to spend a week learning about the Catholic faith and growing closer to Christ and His Mother, Mary, while having fun! Our teams are made up of four college-age men and women who share their enthusiasm and love for the faith with the youth of our diocese. They engage students in classes, songs, skits, and games, all while deepening their un-derstanding of the faith and showing them how to live it out day to day.
Session 1: Students entering grades 1-6; Monday to Friday, July 23-27, from 9am to 2:30pm

Session 2: Students entering grades 7-12; Sunday to Thursday, July 22-26, from 7pm to 9pm
REGISTRATION:
Print a registration form here or pick up a form from the church office or in the vestibule.
***Stay tuned for volunteer opportunities***
For More Info on High School Youth Group
Upcoming Class....
Take a moment to dream about what you could do if you didn't have students loans, credit card debt, car loans or even a mortgage. These are some of the accomplishments of past students of Dave Ramsey's Financial Peace University here at St.
Patrick Parish.
The next FPU class begins on Thursday, June 7 at 6 p.m. in the upper room of the preschool. This is a 9 week class lead by Michelle Mosbach that will teach you about budgeting, paying off debt, retirement savings and giving.
Here is what one student had to say, "I will say it a million times over....THANK YOU Michelle for bringing Financial Peace to our parish!! We just paid off our van in half the time we had financed it for!!"

If you haven't taken this class yet, now is the time!
Go to the class link for details and to sign up https://fpu.com/1063530

If you have questions, please email Michelle at mosbach@mtco.com