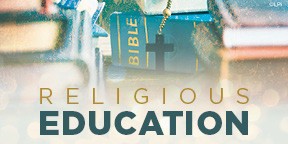 We are blessed to have a very dedicated staff of volunteer catechists and aides.  If you are interested in helping out with this program, please contact Linda Pratt at 309-369-3993.  
Preparation for Sacraments of Reconciliation and First Communion takes place during the second grade year.
Preparation for the Sacrament of Confirmation is a two year program.  
7th graders use the program Chosen, with Chris Stefanick of Real Life Catholic. "For most Catholic teens, Confirmation is effectively "Graduation," something they just "have to do." With nearly 75 percent of young Catholics abandoning their faith in their twenties, the Church simply must do a better job at youth catechesis."
"Chosen explores salvation history, revelation, and the four last things. It teaches about the sacraments, the beatitudes, prayer, virtue, and Mary the Mother of God. It answers tough questions about love and sexuality, and it challenges the reader to say 'yes' to Christ, and to build His Church.
But instead of sounding preachy, Chosen approaches each of these topic areas by raising the questions which teens must ask. Tough questions, such as:
How do I know God is real?
Why be Catholic?
Why tell my sins to a priest?
Why do I have to go to Mass?
Do I have what it takes? And
Where do I go from here?
 8th graders use the program Decision Point with Matthew Kelly and will be confirmed during this second year of preparation.
"They need to hear the Gospel in a way that is fresh, intriguing, relevant, compelling, and attractive. Too often we make the mistake of assuming that they have made a choice for Christ and his Church, when the great majority of them have not. They need to be boldly invited to choose Christ and the Church.
The theology of Confirmation informs us that the Sacrament is about God choosing us. But since we have free will, we need to respond and cooperate as Mary and the saints did in order for God to do his best work through us.
It is our hope that this program will not only prepare young Catholics for the Sacrament of Confirmation in a dynamic way, but also teach and inspire them to respond and cooperate with God's grace in all the circumstance of their daily lives, long after their Confirmation has passed."   http://dynamiccatholic.com/confirmation/about/
Parish/Community Service Projects:  Our CCD Students participate in many projects to help our community including Food Drives to fill Christmas Baskets for the needy, St. Vincent de Paul Emergency Food Boxes for those in need, Operation Christmas Child, Pennies for Life and Fill the Crib to name a few.  
If you have any questions, please call Linda Pratt at 309-369-3993