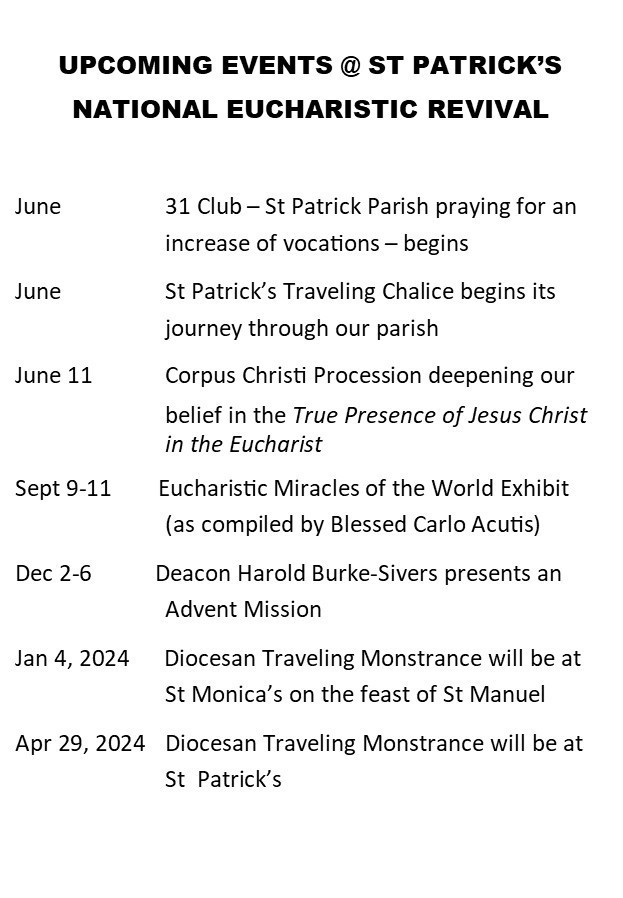 Plans for Sanctuary and Baptistery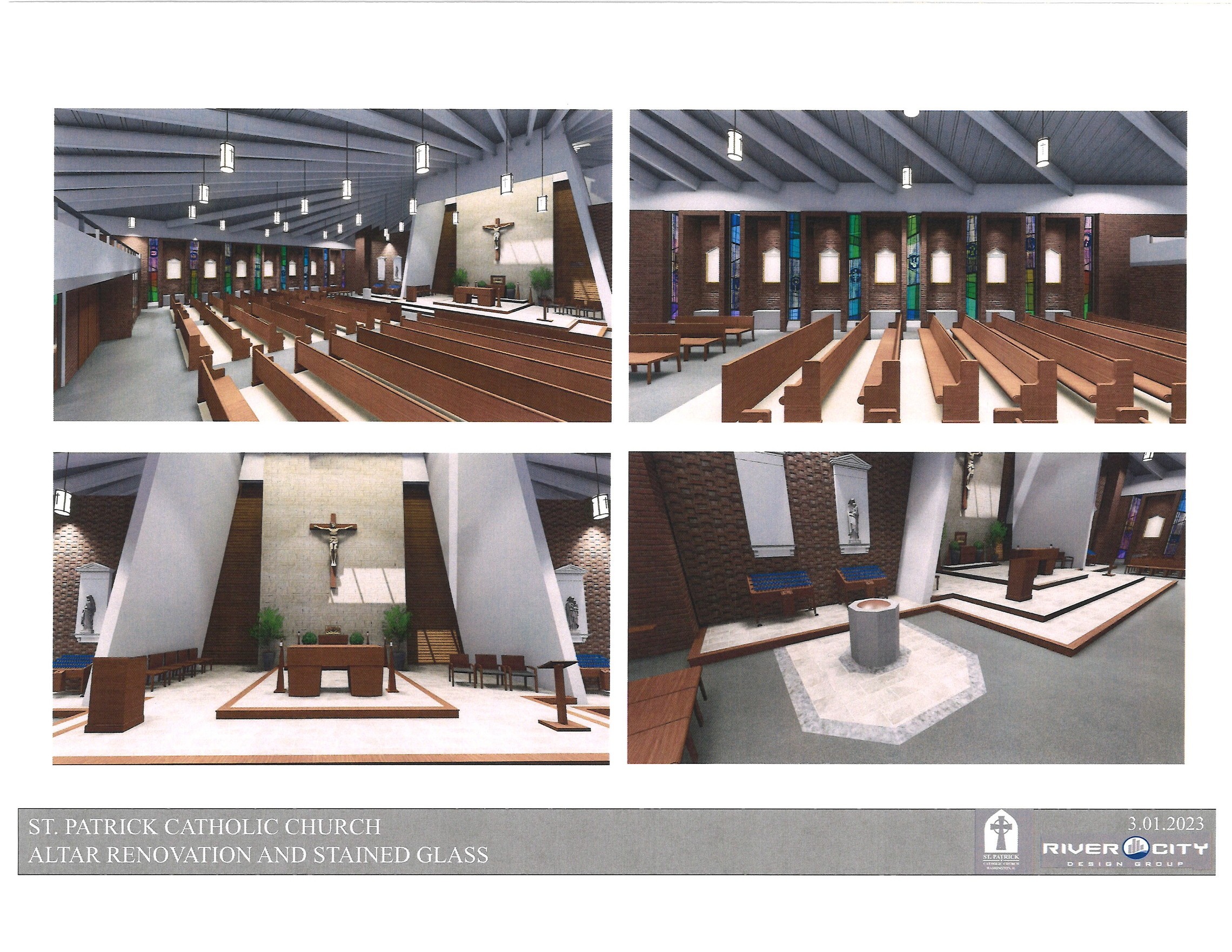 Blessed Carlo Acutis
Dearest Friends, 
"The Eucharist is my highway to Heaven." This statement captures the mission of Blessed Carlo Acutis, the young Italian boy who died at the age of fifteen after a short battle with aggressive leukemia.

I think "ordinary holiness, plus a whole lot of zeal" would be the title I'd give if I were to prepare a talk on Blessed Carlo. In an era in which life is seen through the lens of instant gratification and self-fulfillment, Carlo lived for others. At age seven, he began to attend daily Mass as much as possible. As a youth, he taught catechesis at his parish. He was particularly mindful of the poor and took St. Francis of Assisi as his patron saint. He loved video games, yet he restricted his screen time to cultivate balance in his life. He used his remarkable tech skills to develop a website listing Eucharistic Miracles around the world as a creative means of digital Eucharistic Evangelization. The website he created is still being used in new and old media (aka, printed posters!) worldwide.

At the end of the day, Carlo understood what life was all about—being in communion with God and loving your neighbor. He depended on Our Lady and the saints to help him grow closer to Jesus and allowed himself to bathe in the rays of grace flowing from the Eucharist every day.

I hope this week's edition of Heart of the Revival helps you and those you love get to know one of our National Eucharistic Revival patrons. May his "ordinary holiness, plus a whole lot of zeal" inspire you to live your everyday holiness with enthusiasm and joy!
In Jesus,
Sister Alicia Torres, F.E.
MANAGING EDITOR
PS: If you haven't prayed a Holy Hour for Pope Francis and the Revival yet, it is not too late. Register your Holy Hour today! Learn more about why we are sponsoring this special Holy Hour.
INSPIRED BY THE EUCHARIST
How an Italian Teenager's Love for the Eucharist Transformed a 50th Wedding Anniversary Road Trip
Not only have Bill and Peg White shared nearly 53 years of married life together, but to celebrate their Golden Jubilee they began to travel the country to share the truth and beauty of the Eucharist through the Vatican Eucharistic Miracles Exhibition that includes panels researched and designed by the holy teenager, Blessed Carlo Acutis. Learn more about their inspiring story and how a religious community in Miami is also part of this special mission to share the work of Blessed Carlo.
The Model of Blessed Carlo Acutis: Eucharistic Miracles for Children
Carlo Acutis seemed like a typical teenager of the early 2000s. He wore jeans and Nike shoes, made silly videos of his dogs, loved soccer, and enjoyed video games. He reached out to peers and members of his own family who had fallen away from their Catholic faith for a time. Tragically diagnosed with leukemia, Carlo died at the young age of fifteen in 2006. However, that isn't the end of Carlo's story. Katie Bogner has so much more to share about this teenager and his love for the Eucharist. Don't miss her amazing children's activities themed on the Eucharistic legacy of Blessed Carlo!
I Am with You: A Documentary on Carlo Acutis
Filmed on location in Italy, this EWTN original documentary introduces you to the remarkable story of Blessed Carlo Acutis. Family, friends, neighbors and classmates paint a moving image of this impressive young man whose spiritual wisdom far surpassed his age. Through photos, videos and eyewitness accounts, you'll get an insight into his true devotion to Jesus in the Blessed Sacrament and his relentless determination to spread the truth of Eucharistic miracles to believers around the world.
THE EUCHARIST AND THE SAINTS
Blessed Carlo Acutis' "Holiness Kit"
By Antonia Acutis, from her book My Son Carlo: Carlo Acutis Through the Eyes of His Mother

My son taught catechism to children for a few years, and to help them progress spiritually, he created a kit for becoming a saint. He wrote: "I want to tell you a few of my very special secrets which will help you quickly reach sainthood. Always remember that you, too, can become a saint!"

1. First, you have to want it [sainthood] with your whole heart, and if you do not have the desire yet, you must ask the Lord for it with insistence.
2. Try to go to Mass every day and receive holy Communion.
3. If you can, try to spend a few minutes in Eucharistic adoration before the tabernacle where Jesus is truly present. In this way, you'll see how your level of holiness increases!
4. Remember to recite the holy Rosary every day.
5. Read a passage from holy Scripture every day.
6. If you can, confess every week, even for venial sins.
7. Make promises often to God and the Virgin Mary to help others.
8. Ask your guardian angel, who must become your best friend, for help.

Below: reliquary containing the heart of Blessed Carlo
Both photos from the Chiesa di Santa Maria Maggiore in Italy, courtesy of Monica Keith
MORE FOR YOU
Do This in Remembrance of Me: A Step-by-Step Walk through the Mass
This week, Father Luke helps us understand more deeply the postures associated with different parts of the Creed and how the physical movement actually helps us pray. As a matter of fact, the Creed is a profound moment of expressing the unity we share in professing our faith.

Read Now  |  Leer en español
Saying Yes to Adoration
When Gretchen Crowe was invited to take on an early morning Holy Hour 15 years ago, she knew her life would change. But she had no idea how deep would be the impact of this weekly commitment to quiet time in adoration before Jesus in the Blessed Sacrament. As we continue to celebrate the beautiful message of Pope Francis to our Eucharistic Revival and Congress Teams, we are very pleased to share Gretchen's testimony this week.

Read Now
More Video Coverage of the Eucharistic Revival's Audience with Pope Francis
Rome Reports has a fantastic video capturing the essence of our Revival and Congress teams visit with Pope Francis: encounter and mission. Watch this inspiring footage and hear from some of our leaders about why our Holy Father is so encouraging of the National Eucharistic Revival. 

Watch Now
"The more Eucharist we receive, the more we will become like Jesus, so that on earth we will have a foretaste of heaven."
Blessed Carlo Acutis